This store requires javascript to be enabled for some features to work correctly.
Skin conditions and concerns from simple to complex
SERVICES, CONDITIons & treatment
for women, children and men of all ages
A COMPREHENSIVE medical visit with DR. Christa Lamothe
"I wish I went to Dr.Lamothe sooner. I struggled with my skin condition for 10 long months of itching and scratching all over my body. I had some bug bites that got infected and turned into eczema. Several dermatologist that I went to gave me a ton of steroids and antibiotic which somehow helped for a short period but made my condition worse in the long run.I was hopeless until I reached out to Naturopathic Dermatology and they got back to me within 48hrs. It's been 3weeks since I had my consultation with Dr. Lamothe and my eczema has cleared up! And my skin is just keeps getting better. Not only that, with her holistic approach I'm also sleeping better and have more energy. Her recommendation made me really mindful of what I feed my body and I can see great results. Thank you Dr.Lamothe and Naturopathic Dermatology team!" ~ Jenni Meek
Read more patient and client stories ...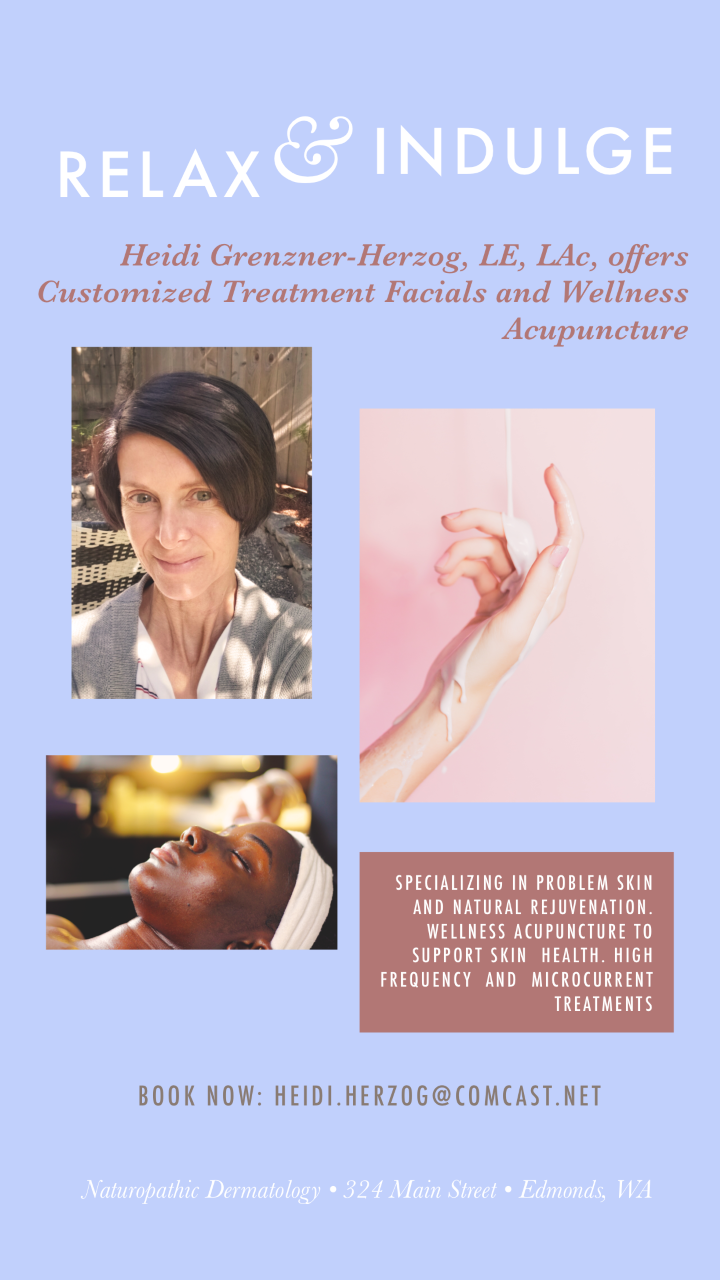 December - January : 10% off Therapeutic Facials (regularly $70 per session) Book by contacting Heidi.Herzog@comcast.net
30 Minute Intensive Therapeutic Facial
Areas addressed - face, neck, décolleté 
No fluff here, we get down to business and focus on what you came to us for - your skin!
1. Examine skin to assess problems and goals
2. On the spot customized blend of concentrated natural ingredients. Right then
and there, we make a preparation from scratch for the main part of your
treatment
3. Deep cleanse
4. Exfoliate on a mechanical and molecular level - this is personalized and it's a
step where many "facials" go wrong - everyone has different needs. 
5. Imbue your skin with therapeutic, rejuvenating nutrients depending upon your skin's needs
6. HYDRATE AND PROTECT
7. Educate - first time clients are provided with a customized skin care regimen and
a complimentary, generously sized skin care kit because your daily skin care is so important in attaining your skin goals and when done correctly, works in concert with your therapeutic facial.
When should you have a 30 minute Intensive Therapeutic Facial? Once a month
and maintain at home with recommended skin care regimen. You're going to love the difference in your skin!
For specific skin concerns - begin with four weekly sessions and maintain with monthly sessions. We specialize in problem skin such as acne, rosacea and sensitive skin and will help you with a reasonable skin care
plan that compliments your goals.
Add-ons are available and we may recommend after the initial examination of your skin or you may request:
Extractions 
- High frequency
- Microcurrent
- Wellness acupuncture
- Intensive eye & lip treatment